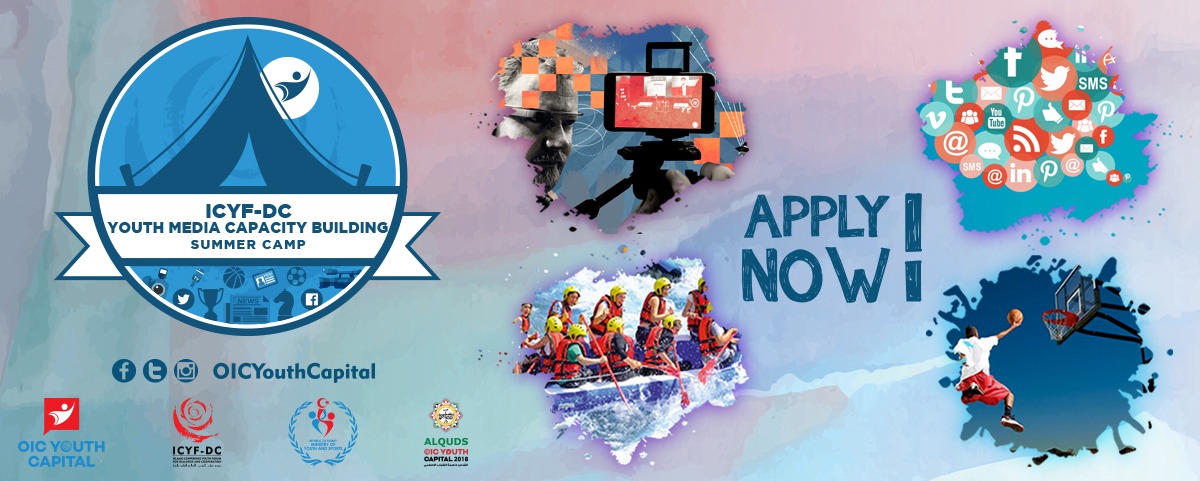 Call for Applications: "ICYF YOUTH MEDIA CAPACITY BUILDING SUMMER CAMP"
Islamic Cooperation Youth Forum (ICYF), an international institution affiliated to the Organization of Islamic Cooperation (OIC), announces the below call for application issued by the Ministry of Youth and Sports of the Republic of Turkey on "Youth Media Capacity Building Summer Camp" to be held within the framework of the "Al-Quds Ash-Sharif – OIC Youth Capital 2018"International Programme.
BACKGROUND
Within the celebration of Al-Quds Ash-Sharif as the OIC Youth Capital 2018, the Islamic Cooperation Youth Forum (ICYF), in partnership with the Higher Council for Youth and Sports of the State of Palestine and the Ministry of Youth and Sports of the Republic of Turkey ,will organize an international youth camp in order to bring together and integrate young people sharing common values, historical and cultural heritage towards strengthening the ties of friendship and brotherhood among them and their societies, as well as to build a powerful future on shared values so as to contribute to the development of future young leaders sensitive about global and social issues, promoting the well-being of society and humanity at all points, preserving their values.
OBJECTIVES
To explore the crucial elements of a reliable journalist's craft (balance, reliability, usage of proper sources);
To learn to evaluate the reliability of sources and to approach any information critically;
To explore the interrelation between media messages and tolerance/intolerance in our societies, especially in regards to the topic of migrant and refugee crisis;
To learn how to distinguish between media and audience bias;
To build the capacity of Muslim Youth in terms of leadership skills and empower them through meaningful participation in the media;
To facilitate young people's connection to heritage, language, culture and identity through media participation;
To explore and understand media and youth participation in media with cultural diversity as concepts and group processes;
To provide tools for multiplication and development of youth participation in media.
To identify possible directions and strategy of work in the field of development of youth participation in media in the realities of participants;
To raise awareness on the centrality of Al-Quds for the Muslim Ummah and its unique role as the centre of the tree Abrahamic religions to be preserved.
THE FORMAT AND METHODOLOGY
"Youth Media Capacity Building Summer Camp" will gather 60 young people from the OIC geography and will create an atmosphere where they can discuss and point out the most important youth-related problems in media participation of the region and produce solutions as youth leaders.
In order to reach the goals and create a better environment for the young people the camp will be a combination of thematic workshops, interactive presentations and sportive activities. It will encourage the active involvement of young people, giving them space to express themselves and to strengthen up ties between them through interactive workshops and sport.
ORGANIZATION
"Youth Media Capacity Building Summer Camp" will be organized by ICYF in cooperation with the host country, Ministry of Youth and Sports of the Republic of Turkey. ICYF will be in charge of the selection process, content coordination and implementation of the programme, while the Ministry of Youth and Sports of the Republic of Turkey will be in charge of the logistical arrangements of the programme.
LOCATION AND DATE
Location: 19 MAY YOUTH CAMP IN SAMSUN/TURKEY Date: 17 – 23 September 2018 (Arrival: 17th September, Departure: 23rd September, 2018)
SELECTION
The final selection will be made by the organizing team according to the criteria described below;
To be a citizen of the OIC Member State or representative of Muslim community in non-OIC Member States;
Able to speak English;
Aged 18 – 30;
To have media background (study, work experience or interest);
Involved in/coordinated any media related project;
Active in community services;
Motivated to attend the full duration;
To be one of the young leaders with a specific change in his-her local community
***Applications must be returned by no later than 5th August 2018 via application link: https://www.oicyouthcapital.com/youth-media-capacity-building-summer-camp-application-form
DEADLINE FOR APPLICATION: 5 August, 2018
IMPORTANT! ONLY SELECTED PARTICIPANTS WILL BE INFORMED.
*** The selected participants will receive email confirmation with detail of the logistics. Due to limited timing the first come first serve principle will be considered and there won't be opportunity to inform those who won't be selected. The general information on selection results will be posted at ICYF website (www.icyf-dc.org) and social media accounts.
COSTS
Travel: The relevant host organizers will cover round trip travel expenses from his/her own country to Samsun Airport including the participant's visa, medical and travel insurance and personal expenses.
Accommodation and other costs: Host organizers will cover domestic transportation, accommodation, food and other relevant local hospitality
CONTACT
*** For further questions, please contact Phone: +902124653939 (Ext: 22) between 11:00 AM and 06:00PM (GMT+3) from Monday to Friday.