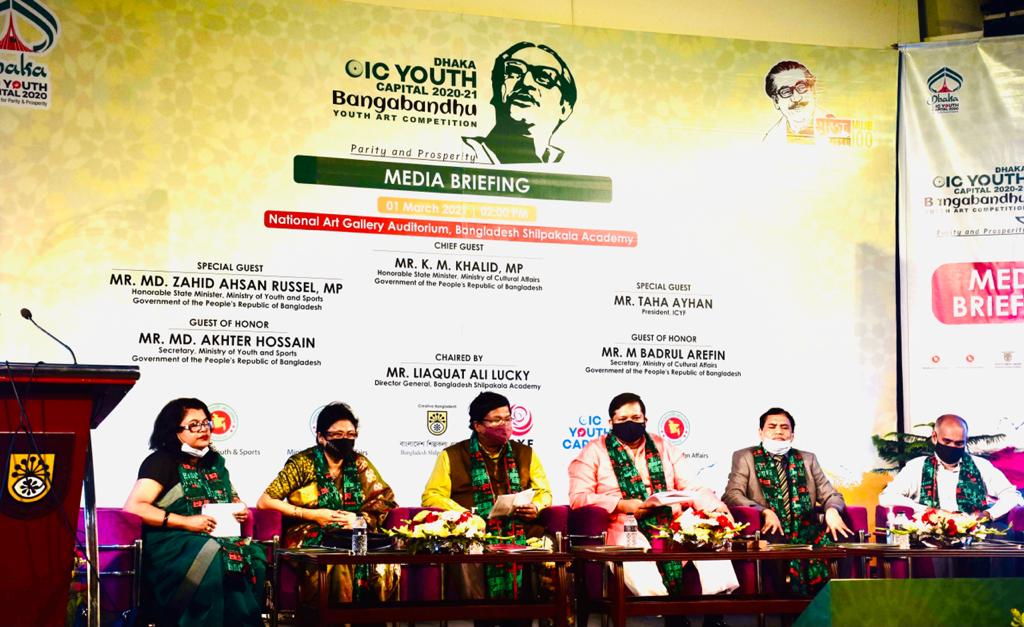 Bangladesh was announced as the "OIC Youth Capital 2020-21" marking a significant recognition for the leadership of Honorable Prime Minister Sheikh Hasina and her spirited Government in the youth sector. The Istanbul based Islamic Cooperation Youth Forum (ICYF), an entity affiliated to the Organization of Islamic Cooperation (OIC), made this declaration on 25 December 2019. The selection of Dhaka as the "OIC Youth Capital 2020-21" will play a significant role to reflect a positive brand image of Bangladesh globally specially among the youth. The convergence of the yearlong events with the grand celebration of the Birth Centenary of the Father of the Nation Bangabandhu Sheikh Mujibur Rahman has amplified its significance to a great extent.
Comprising to the youth of Bangladesh and the world, this event will showcase the spirit of Islam and youth and work to build peaceful collaboration among the youth generation. The year-long programs will contain different modes of youth and practices of living together and building the nest world together.
To celebrate the Dhaka OIC Youth Capital 2020, ten other elaborate mega events (Bangabandhu Global Youth Award, Bangabandhu Global Youth Award, OIC Knowledge Master, Bangabandhu Youth Art Competition, Bangabandhu-Dhaka International Debate Fest for the OIC Youth, Entrepreneurship, Skill & Employment Camp, Dhaka OIC Youth Capital Film Festival 2020-21, Scout Conference for Sustainable Development, Sheikh Hasina Youth Volunteer Award, The Holy Qur'an Recitation competition, Closing Ceremony) have been designed which will be implemented by various Ministries and government bodies throughout the year. It is our great pleasure to formally inform that the 'Dhaka-OIC youth capital 202-21-Bangabandhu- Youth Art Competition' is scheduled from 15-30 April 2021 virtually. With an objective to disseminate the related information of the exhibition through public media, the press conference has been scheduled to take place on 1 March, 2021. Ministry of Cultural Affairs, Government of the People's Republic of Bangladesh and Bangladesh Shilpakala Academy, Dhaka, Bangladesh is going to organize the Dhaka OIC Youth Capital 2020-21 Bangabandhu- Youth Art Competition in association with the Ministry of Youth and Sports and the Ministry of Foreign Affairs, Government of the People's Republic of Bangladesh.
Interested young artists aged between 18-35 years from the OIC member states and muslim community of other country are eligible to apply to the competition. The entire participating countries are devided into six regions. The regions are Bangladesh, Middle East, Rest of Asia, Africa, North and South America, Europe and Australia.
Two juries from each region will be responsible for the selection of artists, artworks and awards from their regional countries. Three juries from Bangladesh will select Bangladeshi artworks and awards. The jury board will select top 100 artworks – from Bangladesh 20 artists, Middle East 20 artists, Rest of Asia 20 artists, Africa 15 artists, North and South America 10 artists, and from Europe and Australia 15 artists.
Under the theme of the competition 'Parity & Prosperity' there will be a virtual exhibition of contemporary art, calligraphy art, photography and graphic design from 15 – 30 April, 2021.
In order to represent their selective thought and imagination to participate in the competition artistsmay follow the subjects like 1) Bangabandhu and Bangladesh; 2) COVID Pandemic; 3) Humanity in Refugee Crisis; 4) Youth Spirit in Technology; 5) Islamic History; 6) Climate Change etc.
Interested participating artists are requested to fill up the registration form (available at http://dhaka.oicyouthcapital.com/program/bangabandhu-youth-art-competition).
Only selected artists will be notified for participation in the virtual exhibition. The selection result will be posted on the website. Applicants are required to attach necessary documents along with the registration form. Each participant may apply with information of their artworks for selection process in maximum three categories and only one artwork for each category. Images of the artworks should be submitted by email in JPEG format in 300 DPI resolution and RGB color mode. Each file size of the attached Image should not be more than 5 MB. All interested participating artistsare requested to submit a scanned copy of their passportornational ID, educational, professional certificate in not be more than 5 MB.
The deadline for the registration and submission of the participation documents is scheduled from 1-31 March 2021. Artworks and regional award selection will be from 1-7 April 2021 from six regions and the selected artists will be notified about their selection through email. The jury session for grand award selection will be held from 11 – 13 April, 2021. A jury panel comprising from Bangladesh and ICYF will be responsible for judging the seclected artworks. Four awards will be given in each categories.
All selected artists will be recive certificate for their participation.
All communication regarding the ecompetition must be directed to the address of the Department of Fine Arts, Bangladesh Shilpakala Academy, 14/3 Segunbagicha, Ramna, Dhaka-1000, Bangladesh. Phone: +88029550602; Mobile: +8801713047571; +8801711183544, +8801711174918;
E-mail: shilpakala.dhaka@oicyouthcapital.com