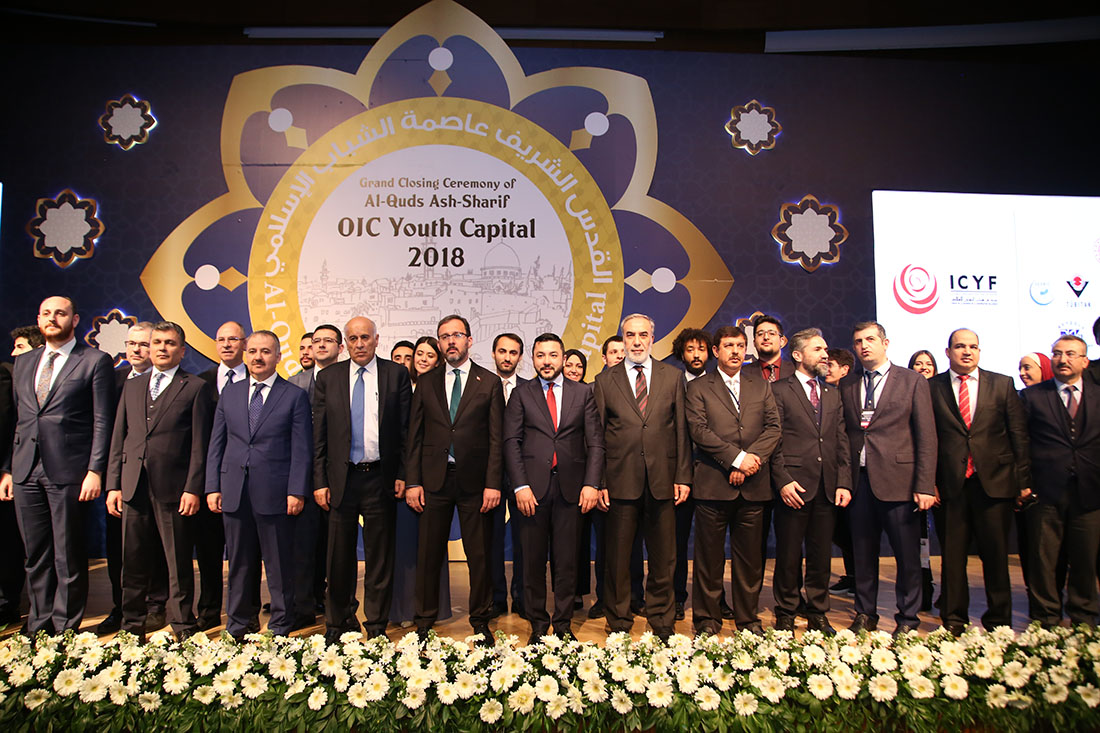 ICYF and Ministry of Youth and Sports of the Republic of Turkey is holding the Grand Closing Ceremony of "Al-Quds Ash Sharif – OIC Youth Capital 2018" with participation of respective OIC Member States' ministries, head of diplomatic missions, Palestinian youth and youth of Muslim world.
The closing ceremony started with the recitation of verses from the Holy Qur'an. During the closing ceremony, H.E. Mr. Taha Ayhan, President of ICYF, delivered a welcoming speech, appreciating the successful implementation of the Al-Quds Ash-Sharif OIC Youth Capital 2018 throughout the year by partner organizations. Mr.President welcomed the guests and started his speech by expressing appreciation and thanks to His Excellency Abu Mazen, President of the State of Palestine, for high patronage provided to the OIC Youth Capital Programme, H.E. Dr. Mehmet Muharrem Kasapoğlu, Minister of Youth and Sports of the Republic of Turkey for the excellent arrangements and hospitality and the Higher Council for Youth and Sports and his Chairperson, H.E. General Jibril Rajoub, for his cooperation and commitment, support for the successful implementation of Al-Quds OIC Youth Capital 2018.
Mr.Taha Ayhan highlighted that "The OIC Youth Capital programme, is also one of tolerance, sharing and raising high the standard of youth; underlining their creativity, dynamism and all that they have to offer to their societies, nations and the world".
The Grand Closing Ceremony of "Al-Quds Ash-Sharif – OIC Youth Capital 2018" International Programme held with the participation of Palestinian youth and International Photography Exhibition entitled "Human Faces of AL-Quds" was displayed during the Ceremony.
"Today, when the Muslim world is not able to establish sufficient solidarity with the Palestinian people and our Palestinian brothers, we are suffering painfully in all the Muslim geography, and even in the case of Jerusalem, which is the symbol of our Islamic character, we are witnessing violations to its status" H.E. Mr.Ahmet Büyükgümüş ,Vice President of Justice and Development Party and the Member of Parliament,Yalova delivered a speech in the Closing Ceremony.
He also expressed his thanked for ICYF active role in promoting role of youth in Islamic world .
The speeches followed by H.E. Amb. Salem Mubarak Al Shafi, Ambassador of Qatar to Ankara, H.E. Yavuz Selim Kıran, Deputy Minister of Foreign Affairs of the Republic of Turkey, and H.E. Gen. Jibril Rajoub, Chairman of the Youth and Sports of the State of Palestine.
Grand Closing Ceremony of al-Quds Ash-Sharif OIC Youth Capital 2018 was attended by Ambassadors, Diplomats and Representatives from 56 OIC Member States in Ankara as well as head of institutions and international organizations such as TUBITAK, T3 Foundation, Isdb, Arab Town Organization, SESRIC, and Ibn Haldun.
H.E. Dr. Mehmet Muharrem Kasapoğlu, Minister of Youth and Sports of the Republic of Turkey also delivered a keynote speech, he emphasized that "Today's event summarizes our work as such programs, where our youth come together to share knowledge, culture and social relations, are quite important to boost solidarity among Muslim countries" and he highlighted that "OIC Youth Capital is an important part of OIC's youth strategy." "We present our sincere good wishes and continues support to ICYF and its President Mr.Taha Ayhan for the implementation of the resolutions taken in the 4th Islamic Conference of Ministers of Youth and Sports and the success of its future activities," Mr. Kasapoğlu added.
During the closing ceremony, successful Participant of the "Al-Quds Ash-Sharif OIC Youth Capital 2018" programs which held throughout the year were awarded. -Ms. Muazzez Gül, the Participant of Discovery of Our Civilization: "Quds"
-Mr. Durim Abazi , the Participant of ICYF Youth Media Capacity Building Camp
-Mr. Burak Omer Demir, the Participants of High School Arabic MOIC Programme
-Mr. Abdallah A. A. Nouri , the Participant of Establishment of Palestinian National Youth Council -Ms. Zehra Nur Düz , the Participant of Muslim Future Thinkers Forum
-Ms. Ghazel Hasan Abunemeh , the Winner of Human Faces of Al-Quds Photo Contest
Within the scope of the Grand Closing Ceremony important partners that have outstandingly contributed to successful implementation of the 2018 Al Quds 2018 Program was presented with an award as a symbol of appreciation for their generous support to the initiative.
On this special occasion, Gen. Jibril Rajoub expressed appreciation of the State and people of Palestine for ICYF efforts in supporting Palestinian youth and advocating for their integration into OIC and international youth programmes and projects.
Al-Quds was hand over the OIC Youth Capital Key to Doha, as the owner of the program for 2019.
The Program ended with the signing of cooperation agreements between ICYF and several high-level institutions that are to cooperate with ICYF on implementing important projects in 2019 and beyond with the ultimate purpose on serving the youth of Ummah. The institutions that signed a Memorandum of Understanding (MOU) are as following:
Ministry of Youth and Sport of the Republic of Turkey,H.E. Dr. Mehmet Muharrem Kasapoğlu
Ibn Haldun University, Prof. Recep Şentürk, Rector
Arab Towns Organization, H.E Ahmad AL Subih, Secretary General
T3 Foundation,  Mr. Haluk Bayraktar, Chairman of Board
Statistical, Economic and Social Research and Training Centre for Islamic Countries (SESRIC) , H.E Amb. Musa Kulaklıkaya Director General
Beyoğlu Education and Culture Foundation, Mr Şaban Kurt, Chairman of Board
Scientific and Technological Research Council of Turkey (TÜBİTAK) , Mr. Mesut Karaca, Secretary General
After the Closing Ceremony Mr.Taha Ayhan,ICYF President and Mr. Abdulrahman Mohammed AL-Hajri, Adviser to the Minister of Culture and Sports of State of Qatar met with local and international press. Mr.Taha and Mr.Al-Hajri answered the reporters' questions in the Press Conference.