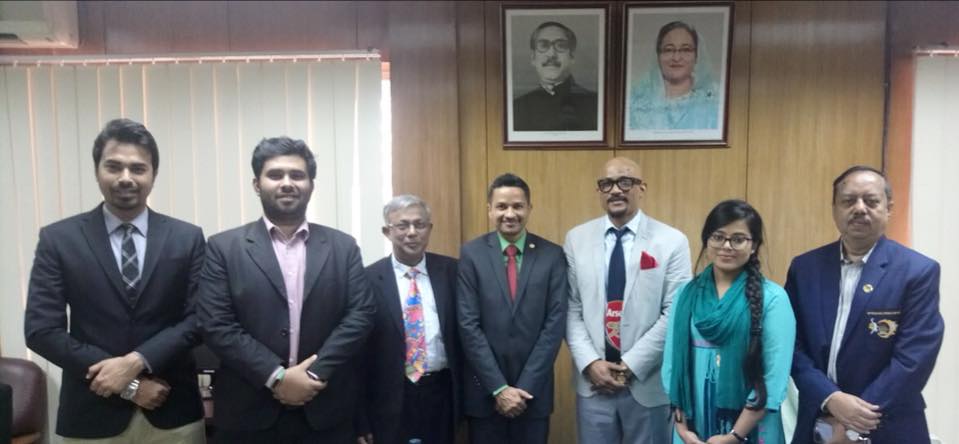 ICYF Director General meets Bangladeshi Deputy Minister of Youth and Sports in Dhaka
On 04 February 2018, Mr. Abdula Manafi Mutualo, Director General of Youth Policy, Education & Training at ICYF, was received at the office of H.E. Mr. Arif Khan Joy, Deputy Minister of Youth & Sports of the People's Republic of Bangladesh to discuss issues of mutual interest related to strengthening bilateral cooperation.
On a more specific note, the guest briefed the host on the successful holding of the National Model OIC Bangladesh, convened a day earlier at the city, as part of the 10th Conference of Tourism Ministers of OIC Member States. Mr. Mutualo also provided an early indication of the dates of the 4th Session of the Islamic Conference of Youth and Sports Ministes (ICYSM), to be held in Baku, Republic of Azerbaijan with the kind request for the Minister to clear the dates of 17-19 April 2018 in order to be able to attend the important event for, international alia, consolidating the Joint Youth Policy among OIC Member States.
Mr. Khan Joy while welcoming the important efforts of the ICYF in contributing to the betterment of youth in OIC Member States, assured his country's resolve to continue supporting the OIC institution responsible for implementing the Joint Youth Action Plan and fulfilling the role of ICYSM Secretariat for youth issues.
Also in attendance were Mr. Md. Faizul Kabir and Mr. Md. Mofazzal Hossain, Joint Secretaries at the Bangladeshi Ministry of Youth and Sports, Ms. Fahmida Faiza, Bangladesh National MOIC Coordinator, and Mr. Sim Shadman Sheikh, Secretary General of Bangladeshi National MOIC.