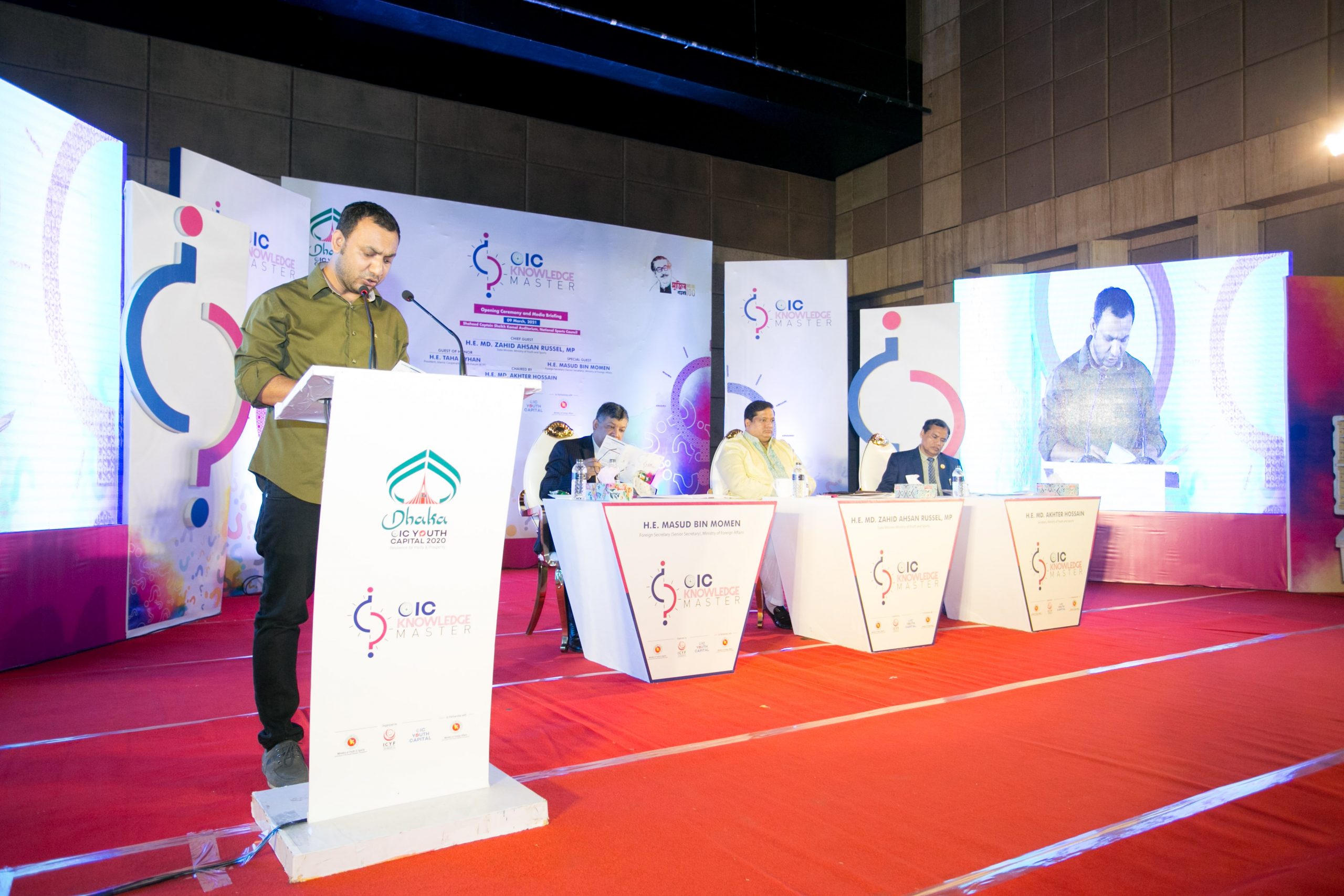 The Ministry of Youth and Sports of the Government of the People's Republic of Bangladesh organized a press briefing session in order to inaugurate the "OIC Knowledge Master" competition, which is one of the key programs of the mega event- Dhaka OIC Youth Capital 2020.
One of the main difficulties the youth face nowadays is making right decisions fast. Being able to make the right decisions fast could save them a lot of time which they could use in shaping the decisions better afterwards. To break this stiffness and help the youth making most of their time during this COVID-19 pandemic, "OIC Knowledge Master" quiz competition is going to be organized in participation with the youth of the OIC Member States and representatives from the Muslim communities of the non-OIC Member States. This competition will also help to address our Honorable Prime Minister Sheikh Hasina's call to engage youths with decision-making, ideas and innovations to build a resilient and sustainable future for all.
This year's celebrations come at a time when the whole world is fighting one common enemy, the COVID-19 pandemic where youths have been the most affected in this crisis situation as they are the most active stakeholders in the society in terms of productivity, mobility and interaction, so this COVID-19 crisis is disruptive in terms of their lifestyle and prospects for their future. With most educational institutions being closed and with restrictions on travel, physical activity, and mass gatherings, postponement of events etc., the impact of COVID-19 has had major implications for all youths, especially the students. These implications can have commensurate psychological consequences. To help the students deal with these challenges as well as to polish up their Critical Thinking skill and help them develop a healthy and competitive mind, "OIC Knowledge Master" quiz competition will completely take place online to connect the youths from all over the world.
The "OIC Knowledge Master" quiz competition is going to be held online by organizing the youth of the world to meet the challenges of the ongoing Covid-19 as well as to acquire their constructive thinking and skills and help them develop a healthy and competitive mindset.
Dhaka OIC Youth Capital 2020 believes that every new life brings a possibility and a promise. Therefore, as part of the Dhaka OIC Youth Capital 2020 Mega Event, the "OIC Knowledge Master" will showcase the knowledge and skills of the youth as well as inspire them to connect with the youth of other countries of the world and build a vibrant and sustainable future for all.
Objectives:
To help the young participants improve or expand their knowledge of things, either
general or in specific area
To promote the history and diverse cultures of Bangladesh and the nations from the OIC
region and beyond
To provide the global youth an opportunity to learn about the life of Bangabandhu and
get inspired to build their life based on his ideology
To promote a fun way of studying and in the process help improve one's general
knowledge
To enable young participants to think from different angles or simply 'to think out of the
box'
To aid in language development and in particular subject areas of study
To provide the youth a platform where they can assess or measure their growth in the
knowledge, abilities and / or skills either on a general level or restricted to specific fields
for instance: History, Culture, Science etc.
To conduct an event where it's fun to participate in but with a competitive element
To promote harmony and inclusiveness among the youths from different regions and
backgrounds
To promote a healthy debate amongst participants in order to learn from each other
To help the young participants build soft skills
COMPETITION FORMAT
The competition will take place in two layers: Regional and International.
Regional Level
In the Regional Level, participants will be selected from each of the following regions:
Bangladesh
Middle East
Africa
Rest of Asia
Europe
North America
International Level
Selected participants from the Regional Level will compete together in the International Level.
Number of primarily selected participants from each region for the international stage is as follows:
Bangladesh – 48
Middle East – 24
Africa – 24
Rest of Asia – 16
Europe – 16
North America – 16
COMPETITION MODULE
The Quiz Competition will take place through following rounds:
Qualifying Round: 100+ (144) participants will be selected for the Qualifying Round,
commemorating the 100th Birth Anniversary of the Father of the Nation Bangabandhu
Sheikh Mujibur Rahman. Selection will be made based on registrants' data/information
submission quality and/or lottery (if needed).
Group Round: The Main Stage of the competition will start with this round where a total
number of 72 participants will participate in 24 groups. Each group will consist of 3
participants. Top 24 participants from 24 groups will qualify for the Quarter Final round.
Number of Group Round participants from each region is as follows:
Bangladesh – 24
Middle East – 12
Africa – 12
Rest of Asia – 8
Europe – 8
North America – 8
Quarter Final: Top 24 participants from the Group Round will be divided into 8 groups
with each group consisting 3 participants each. Top 8 participants from 8 groups will
qualify for the Semi Finals.
Semi Final: Top 8 participants from the Quarter Finals will compete in the Semi Finals.
Top 4 will make the Final!
Final: Top 4 participants from the competition will face off each other in the final.
Quiz Formats and Rules:
There will be a general quiz on various topics. There will be five rounds for the quizzing event.
Round-1: General Knowledge
Round 2: Bangabandhu and Bangladesh
Round 3: Knowledge Specialist
Round 4: Take Your Chance
Round 5: Rapid Fire Round
Quiz content:
General knowledge
Sustainable Development Goals (SDGs)
Bangabandhu and Bangladesh
History
Art and culture
Science
Business education
and others
Eligibility to participate:
Citizenship of any country in the world
Ability to communicate in English
Accustomed to digital technology with good internet connection
Age range 18-35
Detailed knowledge and interest in quiz competition
Conditions and Disclaimer
Only individual participation is allowed, and individuals must submit data/information as asked in the registration form
The Contest will be held exclusively in English
Participation is only open to the eligible people from selected regions
If there is a tie, then the participant with maximum number of correct answers will be considered as winner
In case of any disputes, the decision taken by the quizmaster or the quiz organizers shall be considered final
No electronic gadgets or equipment, written or printed material is allowed during the contest
If any participant is found misleading the organizer or using unfair means to win, organizers reserve the right to disqualify the team at any stage of the event
The participants must adhere to the event's regulations and procedures as stated by the organizing committee
Organizers hold the right to make changes in the event structure during the event
Program Schedule
1st Prize – 2500 USD
2nd Prize – 2000 USD
3rd Prize – 1500 USD
Program Schedule
Media Briefing – March 2021
Registration – March – April 2021
Primary Selection Announcement – April 2021
Quizzing Event – April 2021
Winners Engagement – April 2021
*Award Giving Ceremony – June 2021