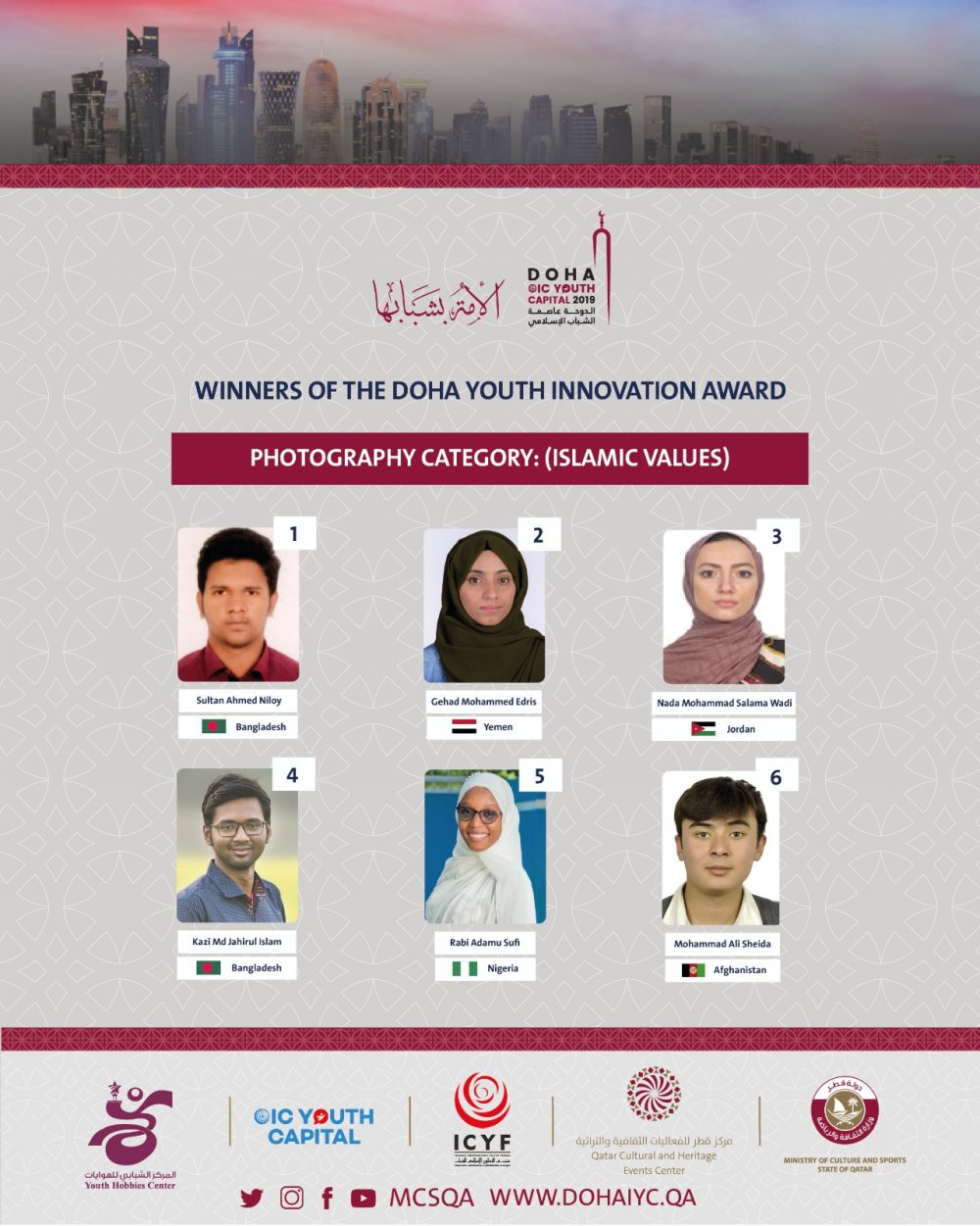 The Ministry of Culture and Sports has announced the winners of 'Doha Youth Innovation Award' , which is open to all young people from the Islamic world in the field of photography.
The award was launched last summer, in cooperation with Islamic Cooperation Youth Forum in collaboration with the Visual Arts Center, Doha Film Institute and the Youth Hobbies Center and the organization of the Qatar Cultural and Heritage Events Center.
The winners of the photography competition, (Islamic Values category), are Sultan Ahmed Nilwi from Bangladesh in first place, followed by Jihad Muhammad Idriss from Yemen, Nada Mohammed Wadi from Jordan; Ghazi Muhammad Jahirul Islam from Bangladesh; Rabi Adamu Sufi from Nigeria, and Muhammad Ali Shida from Afghanistan.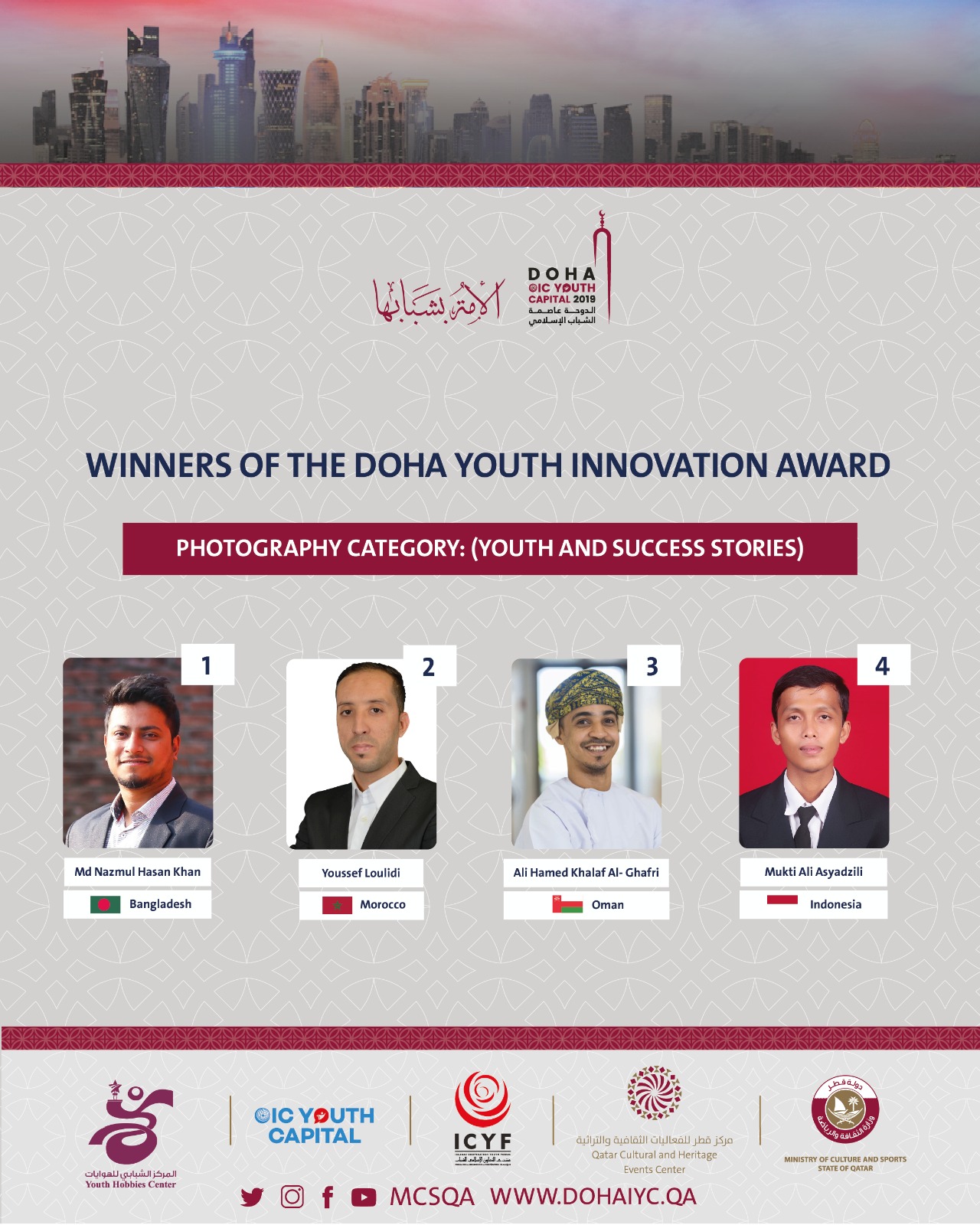 In the 'Youth and Success Stories' category, the first winner is Muhammad Nazmul Khan from Bangladesh , then Youssef Loulaidi from Morocco, followed by Ali bin Hamad Al Ghaferi from Oman and Mukti Ali Asyadzili from Indonesia.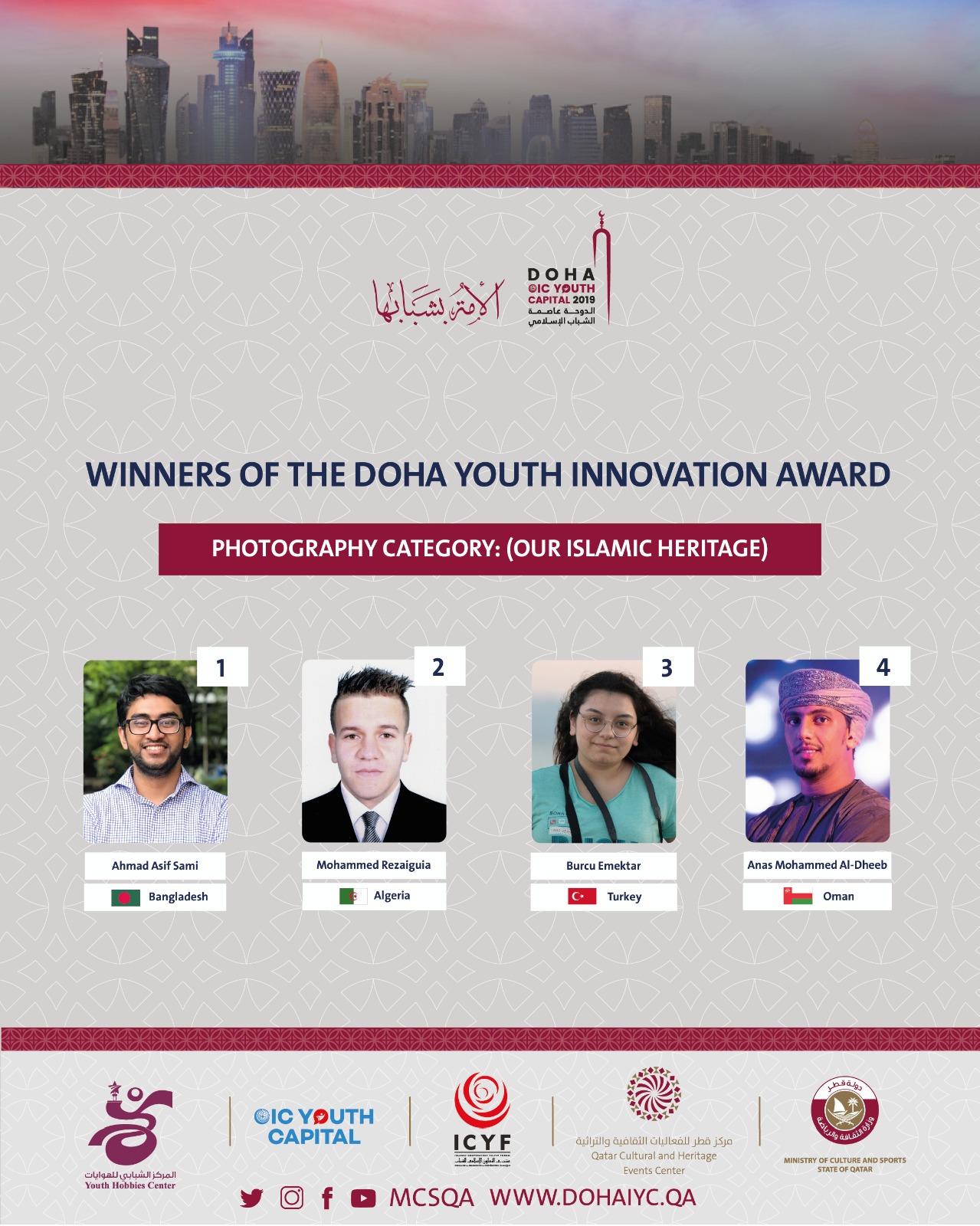 On the topic of "Our Islamic Heritage", Ahmed Asif Sami from Bangladesh won the first place, then Muhammad Raziqiya from Algeria, Porco Emctar from Turkey, and Anas Muhammad Al theeb from the Sultanate of Oman respectively.
Abdulaziz Al Kubaisi, head of the photography section at the Youth Hobbies Center, said in a statement that the arbitration process in the photography category went through several stages, including the administrative screening, which was assumed by the Ministry of Culture and Sports, and the second step was technical screening  and carried out by the Youth Hobbies Center, then the final arbitration which continued for a week and includes more than one step .
The jury members committee consisted of members belonging to the Youth Hobbies Center and others who have a long experience in this regard  and  winners of local and international awards, Al Kubaisi pointed out, adding that the Youth Hobbies Center was the one which drafted the technical conditions for the photography competition and presented it to the Ministry.
Regarding the level of participation  in the award, the president of the jury expected to be better, but in general it was average if it was taken into account that those who applied for the award ranged between beginners and professionals, pointing out at the same time that in order to reach Professional photo, the participant should posses an expensive  materials in the photography which is not available to everyone, in addition to being familiar with the basics and have an artistic taste in taking pictures.
Al Kubaisi expressed his hope that this competition to be annually adopted by the Ministry of Culture and Sports in order to highlight local and Arab talents and develop them.
The Award, which is part of Doha QIC Youth Capital 2019,  aims at developing the spirit  of innovation and creativity among young people in various scientific, literary and artistic fields and moving away from stalemate and calcification in thinking and planning, providing an appropriate environment for creative youth to highlight innovative  efforts.