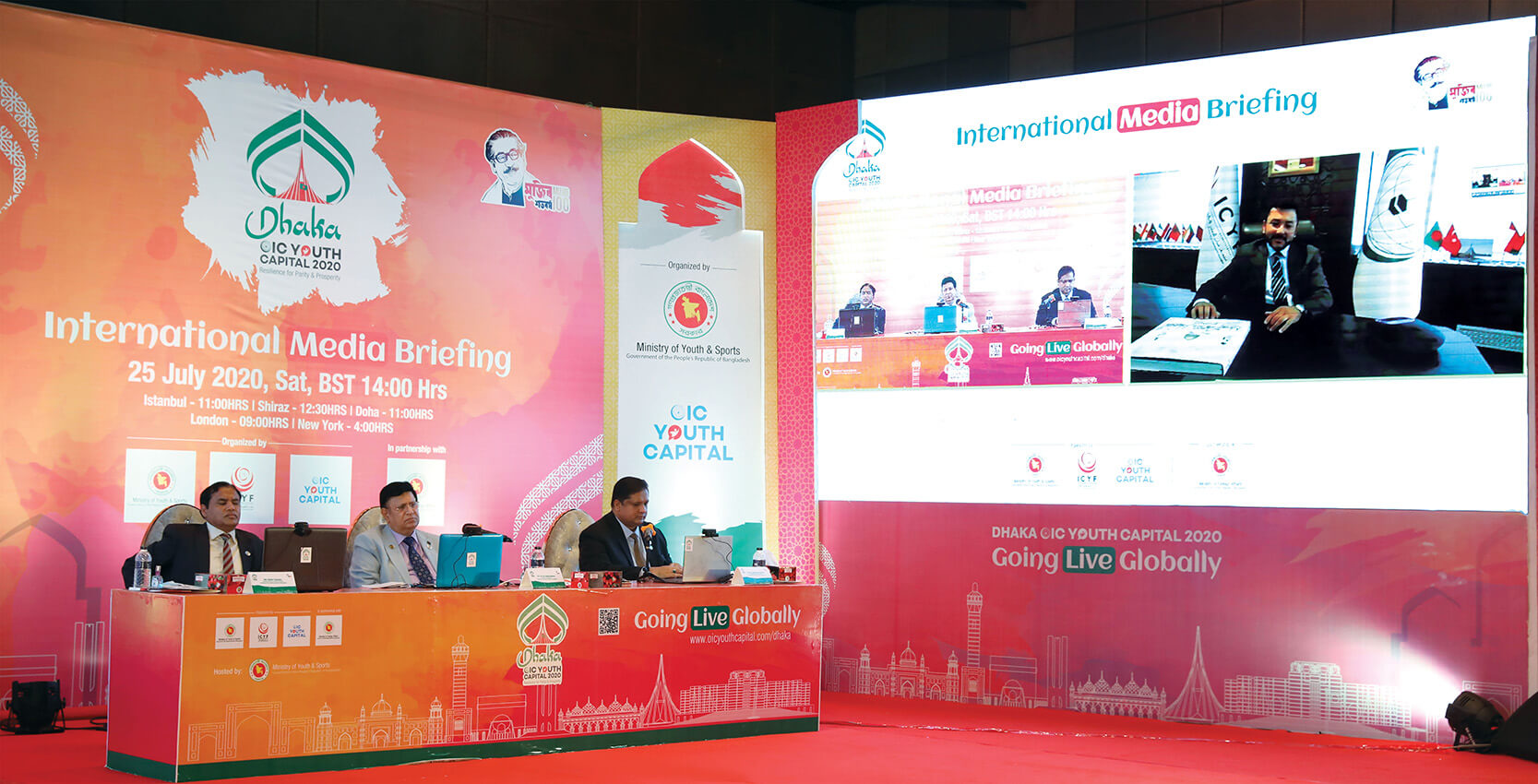 Dhaka OIC Youth Capital 2020 will be inaugurated by the Hon'ble Prime Minister of Bangladesh, Sheikh Hasina in a virtual inauguration declaration ceremony on Monday 27th July, 2020. The Inauguration program will be virtually attended by His Excellency Yousef bin Ahmad Al- Othaimeen, Secretary General, Organization of Islamic Cooperation (OIC); His Excellency Mr. Azad Rahimov, Hon'ble Minister of Youth and Sports of Republic of Azerbaijan; His Excellency Mr. Taha Ayhan, President, Islamic Cooperation Youth Forum (ICYF) and along with other global leaders and dignitaries.
A press conference was held at the National Sports Council (NSC) Auditorium on Saturday, 25th of July on the eve of the occasion. Dr. A. K. Abdul Momen, MP, Honorable Minister, Ministry of Foreign Affairs of the Government Republic of Bangladesh, Mr. Md. Zahid Ahsan Russel, MP, Hon'ble State Minister of the Ministry of Youth & Sports, Government of the People's Republic of Bangladesh and Mr. Md. Akhter Hossain, Honorable Secretary of the Ministry of Youth & Sports were present at the conference. Honorable President of Islamic Cooperation Youth Forum (ICYF), Mr. Taha Ayhan also joined the programme through virtual medium. Journalists from home and abroad participated in that press conference both in person and through virtual medium.
Mr. Md. Zahid Ahsan Russel, MP gave a brief on the history and background of OIC Youth Capital saying, "OIC Youth Capital, initiated by Islamic Cooperation Youth Forum (ICYF) is the yearly gathering of the youth of the Muslim world that constitutes one third of 1.5 billion Muslims of OIC region. The capital is aimed to bring the youth together through certain activities, conferences, conventions, festivals and other special events. The goals of the initiative are to foster inter-cultural and inter-civilizational diversity and to unite the Muslim youth of the members of OIC countries under one platform to share among themselves and to turn up the Voice of Youth."
Hon'ble State Minister for Youth and Sports further emphasized on the power and strength of the youth of Bangladesh with which Bangladesh has already materialized the Vision-2021 and the decision of organizing the whole "Dhaka, OIC Youth Capital 2020" program was a testament to the technologically empowered and advanced Bangladesh. He also stated that the significance of " Dhaka, OIC Youth Capital 2020" had amplified to a great extent due to its convergence with the birth centenary celebration of Bangabandhu and " Bangabandhu Global Youth Award" will be awarded to enlighten the global youth about the exemplary leadership of Bangabandhu. 
The inauguration declaration programme will be followed by a virtual youth summit titled "Resilient Youth Leadership Summit" on 27th and 28th July 2020, where 250  shortlisted youths out of more than 1200 applications from 75 countries will meet expert panelists in various day long activities to learn and craft the strategies to build a Resilient World, particularly, in the context of this COVID-19 pandemic situation. Youth across the globe will visit the Rohingya Camp in Cox's bazar virtually and sensitize them with the plights of these persecuted people and discuss with humanitarian experts to concoct how the accountability and justice can be ensured for them. The Rohingya Camp visit will jointly be coordinated by Government of Bangladesh, ICYF, UNHCR, IOM and University of Cambridge.
During the press conference, Dr. A.K. Abdul Momen, MP said, "We were expected to launch the event sequence in April 2020. But the COVID-19 pushed us back. Now – we have remodeled and relaunched ourselves on the web-platform. Additionally, we have reasons to believe that the occurrence of the COVID-19 has only accentuated the underlying rationale for the theme of this year's edition 'Resilience for Parity and Prosperity'.
Hon'ble Foreign Minister also highlighted the proposed " OIC COVID-19 Response and Recovery Fund" to cushion against the negative impact of the COVID-19 pandemic and to support Bangladesh migrant workers living in OIC member states during this crisis.  
Hon'ble President of Islamic Cooperation Youth Forum (ICYF), H.E. Taha Ayhan in his statement remarked that Bangladesh was the first OIC Member State  that initiated and organized first ever Youth CFM as side event to 45th CFM in 2018. He further stated about the previous " OIC Youth Capital" events and expressed utmost satisfaction about the overall preparation of Bangladesh for launching the year long events on virtual platforms.
Explaining the importance of the programme in context of COVID-19 pandemic, the Hon'ble State Minister of the Ministry of Youth and Sports also stated, "This programme is particularly important in the COVID-19 and post-COVID recovery and reconstruction of an equitable global economic order. It emphasizes on the leadership, vision, ideation and imagination of the youth for constructing an innovative, resilient, and inclusive narrative to ensure a leadership position in the affairs of the world. Dhaka-OIC Youth Capital 2020 believes that each new life comes with a potential and a promise."
A series of events will be organized at the OIC Youth Capital Dhaka 2020 including OIC Scout Leaders E-Meet: People for better planet, Bangabandhu Youth Leadership Award, Holy Quran Recitation Competition, Film Festival: Lockdown by the Lence, OIC Knowledge Master: Quiz competition, Art Exhibition: Creativity to create better world, Debate Competition: Topics on new Free world, Youth Bootcamp – Leadership, Youth development, Entrepreneurship, Skill & Employment Camp etc. Dates of these events will be confirmed later.